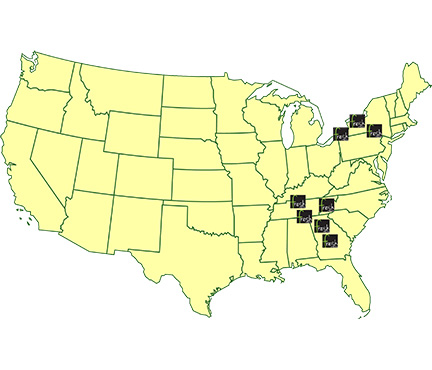 By now, we hope you are familiar with our Freshments markets, and have found your favorite snacks stocked at our locations!   We want you to be aware that our footprint reaches beyond the doors of your locations, into other cities.
Primarily, our clients are in the southeastern United States, including Macon, Atlanta, all of northwest Georgia, Chattanooga, Knoxville, and their surrounding areas.
But that's not all!  We have strong vending relationships with partners that enable us to offer locations nationwide. 
One of our partnerships is with a sister company called UpState Refreshments, which services Buffalo, Rochester, and Syracuse, New York.  And in Central Florida, our sister company  is  Florida Fresh Vending.
The best part about our sister companies is that they offer the same level of quality and service as Vendedge.  We're so proud to work with them to fulfill your vending needs throughout the nation.  If you'd like more information, or have  questions,  please contact us here.
We hope our enthusiasm is contagious!  Please share with us the changes in Freshments that appeal to you most, and let us know how we can do even better to bring  your favorite, healthy snacks directly to you, wherever you might be located.